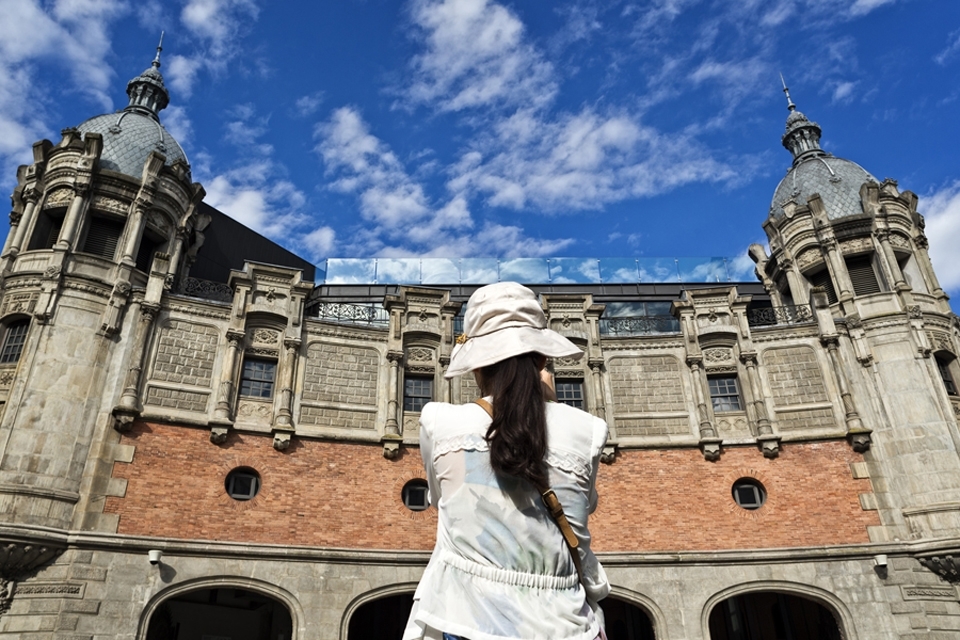 Azkuna Zentroa, until recently known as 'la Alhóndiga', is a cultural and leisure centre in the heart of Bilbao open to the public.
Useful information
Agenda
Agenda cultural
Customer service hours
Monday – Friday: 08:00 − 22:00

Saturdays, Sundays and Public Holidays: 09:00 − 22:00

Tel.
 944 014 014
With an investment of €75 million, the French architect Philippe Starck reconverted the building from a hundred-year old wine storage warehouse.
The renovation began in mid-2001 with the demolition of the interior structure while conserving the façade. Three cubes lined with bricks have been constructed in the interior, suspended on 43 columns; each of these columns is different and it is very interesting to see how the style of each one varies in such a spectacular manner.
The service area of over 40,000 m² of the Azkuna Zentroa includes eight cinemas, an auditorium, a library, an exhibition room, gymnasium and swimming pool, a shop, restaurants and an underground car park.
On 10 December 2014, Ibon Areso, acting Mayor of Bilbao, presented the new name for 'la Alhóndiga': it became the 'Iñaki Azkuna Centre', in honour and recognition of the man who was Mayor of Bilbao for more than three legislatures. In March 2015 the building officially became known as 'Azkuna Zentroa'.
A strategic objective of Azkuna Zentroa is the mission of supporting Bilbao as an open, cultural city that promotes knowledge, as well as the economic and social development of the territory.
AZ Zentroa wins the Global Awards prize for excellence
As a centre of contemporary art and culture of Bilbao, Azkuna Zentroa received a 'Global Award for excellence' 2017-2018 as one of the best centres of its kind in the world. The prize is awarded by the Urban Land Institute (ULI) to companies or centres that carry out their activity to the highest levels of excellence and innovation while making the best use of space or resources.
Thiteen international centres have won this prize, Azkuna Zentroa being the only European one to do so. The award not only recognises the building but the work done there and its contribution to the city.